ASK DR JAY: THE TOP SEXUAL HEALTH FAQ'S
Sexual health may be an awkward topic to discuss with your doctor, but it is a crucial part of every sexually active person's overall wellbeing!
Trust us when we say that our doctors at London Doctors Clinic see patients of all ages, ethnicities and sexual orientations... Whatever it is that you're concerned about, you won't be the first to have confided in our doctors, and you certainly won't be the last.
Getting regularly screened for STIs at a sexual health clinic is important not just for your own health, but for the health of your sexual partners (past, present and future!). So, if you're struggling to pluck up the courage to book that essential STI screen, read on for the reassurance you may require, as we ask Dr Jay, one of our experienced GPs with a special interest in Sexual Health, some FAQs on the top.
1. Dr Jay, what is the most common concern your patients have when they visit you for an STI check-up? 
This is difficult to answer as people come to see us for a variety of different reasons. It may be because they have had a encounter that they are worried about, because they have started a new relationship, because they have symptoms or have more than one sexual partner.
We also see people who are concerned about herpes and HPV.
Perhaps the most unifying factor is that they are seeking peace of mind. There is lots of misinformation about sexual health and simply discussing patients concerns may alleviate a lot of anxiety, but with same day results (and even treatment) in the majority of cases and support available, we do our best to set our patients back at ease.
2. Have you ever been shocked by someone's sexual history? How do I know my GP won't judge me?! 
There is certainly no need to be embarrassed when you come to see us - we never judge and you can almost guarantee that we have heard something far more intriguing before!
3. How confidential is patient information? 
You can have complete confidence in the confidentiality of your information. We will only communicate with you by the means that you prefer and the only people who have access to your details are the clinicians directly involved in your care.
We will not pass information on to your NHS GP or anyone else unless you ask us to do so. Confidentiality is protected by law and can only be broken in the unlikely event that that an individual is putting someone at significant risk of ongoing harm.
4. After being diagnosed with an STI, does a patient HAVE to contact all their previous sexual partners? 
It is very important that contacts who are at risk of infection are informed. This is because untreated infections can not only spread to others, but also cause problems such as infertility and in some cases have more serious consequences.
Depending on the type of infection, we would recommend informing contacts in the last 2 weeks to 3 months (rarely longer than this). If you do not feel able to do this yourself, we can inform them anonymously.
5. Are STIs easy to treat? 
STIs are all treatable these days and all except HIV may be cured. The most common infections such as chlamydia and gonorrhoea can be treated with a single dose of antibiotics.
6. Is an examination always necessary? 
No, if you don't have any symptoms then we are unlikely to recommend an examination.
7. How long does it take to get STI test results? 
If you come in the morning, we can usually get the results back to you the same day (this includes chlamydia tests, gonorrhoea tests, HIV tests, Hepatitis tests and Syphilis tests). There are a few tests which take longer than this, but these are rarely required.
8. How long do you have to wait after having unprotected sex before you can get tested for STIs?
If you have symptoms, then you should come in ASAP. If not, then it is best to wait at least 2 weeks before coming in - this enables us to rule out chlamydia/gonorrhoea and we can request and early detection screen for hepatitis B/C and HIV. If you are not particularly concerned, you may be better waiting for 1 month and coming in for one of our standard screens.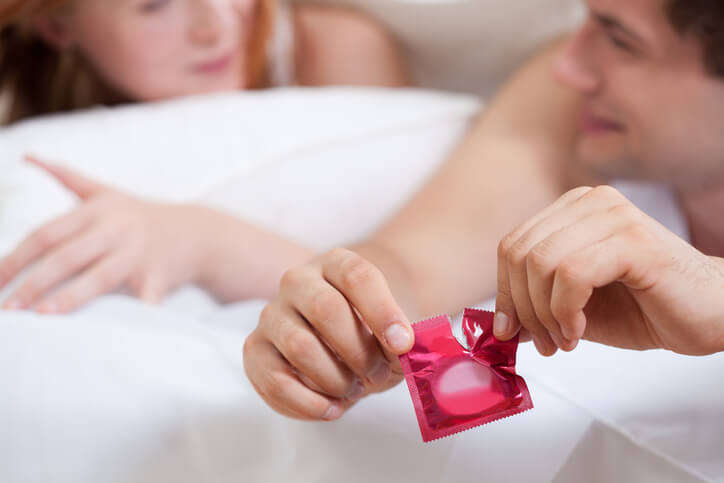 Barrier protection can make sex safer and protect against some STIs
9. I don't know anyone who has ever had an STI. Exactly how common are they?! 
Very common and unfortunately on the rise. Up to 10% of young people are infected with chlamydia alone. We are also seeing a resurgence of rarer infections such as gonorrhoea, syphilis, lymphogranuloma venereum and even HIV is on the rise.
There you have it - a list of the most frequently asked STI questions answered by our very own sexual health specialist, Dr Jay. If you're worried about anything you've read, book in for a private GP appointment at any of our nine private clinics. As always, when you need to find a GP or GP surgery, LDC is here for you.