Physiotherapy is a medical speciality that many marathon runners will be familiar with. Did you know that physiotherapists can assist with a whole host of musculoskeletal conditions, including sporting injuries? From helping with bad backs and sprained ankles, to torn ligaments in the knees, seeing a physio will usually be very beneficial. Read on, as our private doctors discuss the common indications for requiring physio, as well as some of the techniques used by therapists.
Physiotherapy
Physiotherapy is a special area of the health profession that aims to restore wellness and function to people who have suffered pain, an accident or a disability (to name a few).
It is perhaps best defined by the World Confederation for Physical Therapy (WCPT) as "providing services to individuals and populations to develop, maintain and restore maximum movement and functional ability throughout the lifespan". "This includes providing services in circumstances where movement and function are threatened by ageing, injury, pain, diseases, disorders, conditions or environmental factors.  Functional movement is central to what it means to be healthy."
If you have suffered from pain or difficulty with the function or movement of any part of the body, then a physiotherapist may be able to help you, no matter what age you are, or how long you have lived with difficulties related to an injury or disease!
What Can a Physiotherapist Help Me With?
Physiotherapists can help to:
Assess, diagnose and treat injuries and conditions that affect people of all ages and social groups
Assist a patient to prevent injury in the workplace or on the sports field
Promote healthier lifestyles for all
Physiotherapists deal with a huge range of conditions, mostly those which affect the structural supports of the body (such as muscles and ligaments). Some of the more common conditions that can be treated include:
Injuries (e.g pain or loss of function following fractures)
Sports injuries, specifically (e.g collateral ligament tears in the knee)
Chronic back pain
Medical disorders (e.g. frozen shoulder or tennis elbow)
Physios also use their knowledge and skills to improve a range of conditions associated with different systems of the body, such as:
The Benefits of Attending a Physiotherapist
There are many potential benefits of attending a physiotherapist and this is definitely a measure to consider adding into your treatment plan for the affected part of the body. A physiotherapist can: 
Allow you to remain active and healthy
Decrease pain
Increase function and range of movement
Increase your confidence in your abilities and the strength of your body
Help you to achieve or return to your full potential
Support you to maintain your independence
Help you to return to (or continue at) work, meaning that your livelihood isn't threatened (which can be a source of significant stress)
What Techniques Do Physiotherapists Use?
The techniques used by your physiotherapist will depend largely on the problems you are experiencing and your own personal goals for the treatment. At your first appointment, your new physiotherapist will assess you to find out what your current level of function is and what you wish to achieve. They will also ask you lots of questions about your condition or injury and how it affects your health and your life. 
Education & Advice
This is one of the main tools used by physiotherapists to help you cope – they can give you general advice about lifestyle (such as remaining active, and maintaining a healthy weight), and more specific advice for your condition (for example, if you suffer from back pain, you might be given advise that relates to posture and stretching).
Movement & Exercise
Physiotherapists may use a wide range of activities, such as swimming or walking, to strengthen the body as a whole and improve overall function and mobility. Sometimes, exercises performed in shallow warm water, such as hydrotherapy, can help to relax and support the body, while providing a low impact means of exercising. If needed, physiotherapists can source and provide aids to increase your independence and mobility, such as crutches or a walking stick.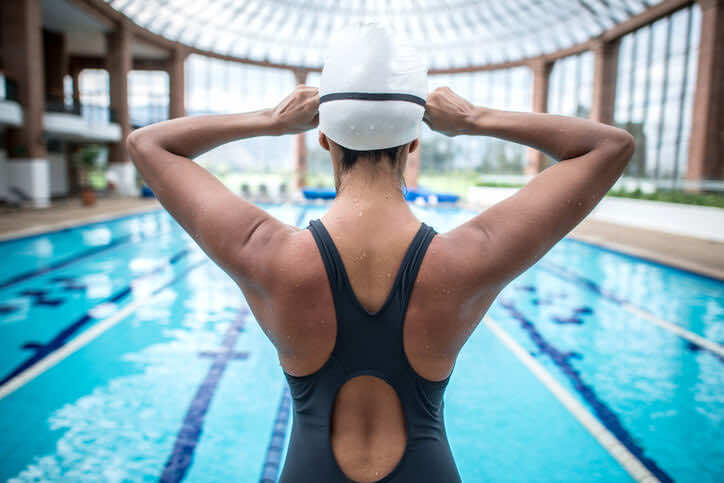 Your physiotherapist might suggest you take up swimming - to improve strength, function and mobility 
Manual Therapy
This is when physiotherapists use their own hands to manipulate parts of your body, in order to improve your function and mobility, and relieve pain. Sometimes, the physiotherapist will stretch a part of the body for you (passive movement); other times, they will ask you to move the affected part by yourself (active movement), or to resist them as they try to stretch or move a part of your body (resisted movement). Massage is also used as a manual therapy tool to relive pain or tension in muscles.
I Need Physio: How Do I Get It?

You should seek medical advice from your Doctor before making an appointment to see a physiotherapist. This is to ensure that it is safe for you to begin attending a physiotherapist, with the added benefit that your GP may be able to refer you to a professional best suited to your particular needs. Your NHS GP may also be able to refer you for physio on the NHS, otherwise there are many qualified private Physiotherapist practices to choose from.
In any case, you should always ensure that your physical therapist is properly trained and licensed to practice in their profession. If you need to find a physiotherapist in your location, you can visit the Chartered Society of Physiotherapist's website, which provides a list of chartered physiotherapists available in each post code.
So, if you're struggling with a musculoskeletal injury, ache or pain, the first step towards recovery is booking an appointment with a GP - such as our experienced GPs a LDC. At any of our nine doctors surgeries, we'll be able to assess your issue and advise as to further steps, such as imaging (x-ray, CT scan, etc.) or physiotherapy. Simply visit our locations page to search for a "GP near me". Don't ignore that niggling pain until after the race - the sooner you get it check out, the soon you can receive a diagnosis and relevant medical advice.  
 By Melissa Dillon