Phone lines are very busy at the moment
THE BATTLE OF THE SUN CREAMS: WHY ARE THERE SO MANY AND WHAT SHOULD I LOOK OUT FOR?
Summer is well and truly here! But before you head outside to top up your tan and your vitamin D stores, have you thought about how you are going to protect yourself from the dark side of the sun? If the answer to this question is no, then read on as our private GPs tell you all you need to know about sun cream! 
Why Is Sun Protection Important? 
As you may already know, ultraviolet radiation (UVR) from the sun can cause skin cancer. This is because the rays cause DNA damage in your genes that can result in abnormalities in your skin. In fact, even though many people associate a tan with looking healthy, it actually means that your skin has been damaged and is producing a dark pigment (called melanin) in order to protect itself from further damage. 
Therefore, sun protection is really important to protect yourself and one way you can do this is by investing in a good sun cream. However, as you may have already discovered, there are so many products out there, so choosing the one that is effective and knowing what you should be looking out for can be very confusing! But don't worry - we at LDC are here to break it down for you... 
How Do Sun Creams Work? 
Sun creams can work in two ways:
Absorbing UV radiation (organic filters, chemical sunscreens) - These sun creams absorb the rays and then convert this energy into infrared.
Blocking UV radiation (inorganic filters, physical, natural, reflective) - These sun creams contain either zinc oxide or titanium dioxide and reflect the rays from the sun.
What Is SPF? 
You may have seen a number ranging from 2 to 50+ on the front of a sun cream bottle. The SPF stands for sun protection factor and it shows the level of protection against UVB rays ONLY.
The British Association of Dermatology recommends a sun cream with an SPF of 30 in addition to protective shade and clothing.
Did you know that SPF stands for sun protection factor?
So, What About Protection From UVA Rays? 
You may notice that there are a number of stars on the packaging of a sun cream bottle. The stars range from 0 to 5 and this reflects the ratio between the level of protection afforded by the UVA protection and the UVB protection.
It is generally recommended that a minimum UVA rating of 4/5 stars with a SPF of 30 is ideal.
So overall:
SPF = UVB protection
Stars = UVA protection
What Do Low/ Medium/ High/ Very High Protection Mean? 
It's quite simple: 
Low = SPF 6 – 14
Medium = SPF 15 - 29
High = SPF 30 - 50
Very high = SPF 50 +
What About Water Resistance? 
If the sun cream you're eyeing up says it is water resistant, then this means it has been tested by its ability to retain its protectiveness following two 20 minute intervals (a total of 40 minutes) of moderate activity in water. However, you should be aware that towel drying and really vigorous activity can remove a lot of the sun cream, so make sure to reapply it every 2 hours (at the very least)!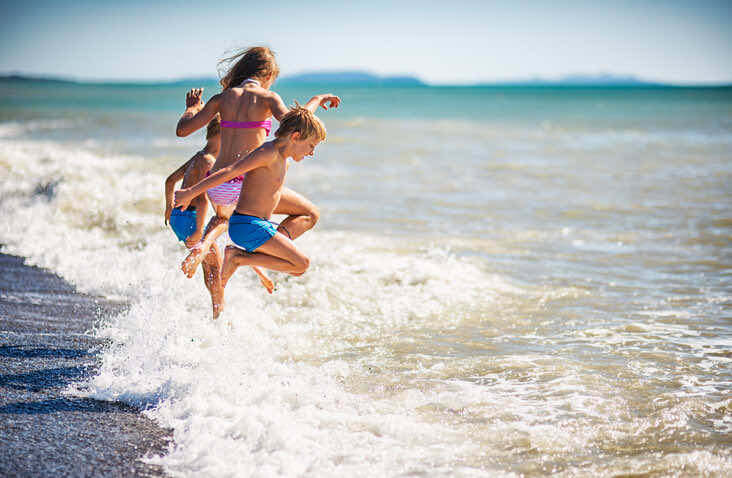 Towel drying and vigorous activity might remove suncream, so be sure to reapply sun cream after going in the water!
Okay, So How Do I Go About Applying Sun Cream? 
The key with the application of sun cream is "the more the better". This means at least six full teaspoons to cover the body (if you are of average build).
Apply it 15 to 30 minutes before going out in the sun and allow it to dry
Reapply it every two hours
Reapply it after swimming, excessively sweating and towel drying
How Does This Relate To Me?
Putting all that information together, you should be able to effectively personalise which sun cream to go for.
If you are very fair, cannot tan and always burn, you will need to regularly apply lots of high SPF sun cream (i.e. 30 or above) with high UVA protection to protect against damage from the sun. 
If you tan very easily, rarely burn and have black or Asian skin, then you do not need a sun cream that stops skin cancer to the same extent as fair skinned person. However, if you are in the sun for intense or prolonged times, then you will need to invest in sun cream.
Hopefully this has helped your understanding of what the different sun cream products out there have to offer and will allow you to make the right choice! If you need any further information, simply book an appointment at one of our GP surgeries - we have 12 private clinics located across central London (all next to key transport hubs) so should never be too far away when you need to find a GP. Moreover, we offer future and same day doctor appointments - to fit in with your schedule! And last but not least, enjoy the sunshine this summer! 
Sakira Thangavel