Winter Health
Winter is definitely on its way, with temperatures dropping and daylight hours diminishing. These next few months are prime time for poor health, but there are plenty of things you can do to avoid this! Here at London Doctors Clinic, we run you through some important things to consider this Winter, with regard to maintaining your good health! And if you're unlucky enough to be struck down with illness this Winter, despite our best efforts helping you to avoid it, you know where to find us…
Avoiding Colds & Flu
We've ALL had a cold or flu during our lives, with most people getting one at least once a year or so. As always, prevention is the best medicine, and so it's important to avoid these at all costs!
The best way to avoid colds and flu this winter is to keep good personal hygiene: washing hands regularly, using anti-bacterial hand-gel, especially after touching potentially contaminated objects in public areas, such as train hand rails. Conversely, it's also imperative to keep your germs to yourself, such as by covering your mouth when you cough or sneeze, as not to contaminate surfaces and objects with germs!
Keep your immune system in tip top condition by eating plenty of healthy foods, including fresh fruit for its Vitamin C content, to help boost the immune system. Maintaining your health, with plenty of sleep, healthy foods, and not too much stress, will ensure your immune system is ready to tackle whatever comes its way. It's when you're tired, stressed and undernourished that opportunistic viruses and bacteria strike.
And why not get the flu jab this winter? It's not exclusively for the elderly, as everyone can benefit from this vaccination. At LDC, all of our private clinics are stocked with this flu vaccination, which our GP's can quickly administer at the end of a consultation, for just an extra £10.
The flu vaccine is most strongly recommended for the following groups:
The elderly (over 65 years of age)
Anyone who is immunosuppressed

People with HIV
Patients taking steroids, or
Transplant patients who take immunosuppressants

Pregnant women
Anyone suffering from chronic respiratory diseases
Health and social care workers
If you are unfortunate enough to be struck down by a virus this Winter, there are plenty of cold and flu remedies available to help sooth the symptoms.
Preventing Cold & Flu
You will have probably noticed by now, the sharp dropping of temperature over the last few weeks. Fortunately, in the UK we're not subject to as extreme weather conditions as some countries, but it still gets pretty chilly! Watch our for signs of hypothermia – when the body gets dangerously cold.
It's recommended to keep your home heated to at least 16ºC, and living areas between 18-21ºC while you're using these rooms. We appreciate, heating does not come cheap! But spending long amounts of time in temperatures lower than this may have a negative impact on your health. Make sure windows and doors are shut to prevent heat being lost and wasted, and no need to heat the house when you're out!
When out of the house, make sure to check the weather forecast before you leave. Some days can feel significantly colder than others, especially with strong winds, so make sure you're dressed for the occasion. The more layers, the better! That way, you can easily peel off a layer or two when stepping indoors, as to appropriately and easily adjust your clothing for a swift temperature change.
Appropriate footwear is also a must! Rubber soles will help prevent slipping, especially on icy pavements throughout Winter. The last thing you need is to be slipping and fracturing a wrist, or twisting an ankle, as a result of poor footwear choice! Health trumps fashion, any day…
Getting Outside!
We appreciate that with the cold temperatures outside, and cosy warmth inside, it may be tempting to spend as much time as possible snuggled up inside. But don't forget, your body still needs Vitamin D to maintain good health, especially strong bones! Make sure you're making the most of these precious hours of sunlight.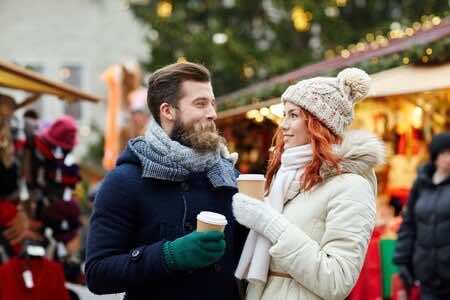 As if you needed another reason to check out Winter Wonderland
There's also lots of research to suggest that the lack of sunlight in Winter months can have a detrimental effect on our mental health, with slightly higher rates of depression. Seasonal Affective Disorder (SAD) is a condition whereby people who are normally relatively happy throughout the spring, summer, autumn months develop symptoms of depression through Winter.
Therefore, the keep spirits high by making the most of those precious hours of sunlight available. Why not go on a long weekend walk through some of London's beautiful parks, or along the Thames? And keeping active, by means of outdoor exercise is the perfect way of simultaneously getting plenty of Vitamin D and keeping your heart healthy! It also is a great way of balancing the potential weight gain from all that amazing Christmas meals to come this season…
So over the next few months, we know you're going to be as busy as every in the build up to Christmas and New Year, but make sure your health is still a priority! Keep up those good habits of exercise and healthy eating, and don't go to hard on the Christmas pudding. But if you do need an affordable private doctor at any point over Winter, you know where to find us, our doors are always open!