VitalityHealth Face-to-Face GP Consultations
London Doctors Clinic has partnered with VitalityHealth to offer their members fast access to private GP consultations in Central London at a reduced rate. 
If you're a VitalityHealth member you can book a 15 minute face-to-face private GP at any of our 15 central London clinics.
Appointments are available from 9:00am-5:30pm Monday to Friday in all locations, but some of our locations are open weekends and evenings too.
Click on any of the clinics above to check their opening hours and book an appointment. Alternatively call us on 020 3733 5368. Lines are open from 8:00am-8:00pm on Weekdays and 10:00am-4:00pm on Weekends. Simply quote "VitalityHealth" on the phone or in the booking notes and give your Vitality membership number.  


Before Booking An Appointment:
Check that this service is included on your Vitality plan on the Vitality Member Zone.
Have your Vitality membership number to hand. You can find this on the Member Zone or on your plan documents. 
If you book an appointment online, please enter "VitalityHealth" and your membership number in the booking notes.
If you book an appointment over the phone, please let us know that you're a Vitality member and have your membership number ready.
If you need to cancel please let us know as soon as possible.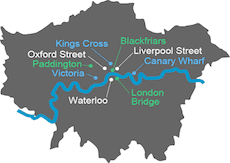 During Your Consultation
The GP might issue a private prescription, offer a blood test, or refer you for a minor diagnostic test, such as an x-ray. You'll need to pay for this yourself, but you may be able to claim the cost back from your Vitality GP Benefit providing you have remaining allowance.
The GP may also be able to offer you a scan or ultra-sound to understand a bit more about your condition. Before proceeding with this you should contact VitalityHealth to seek authorisation.
After Your Consultation
If the GP considers that you need referral for onward treatment, for example seeing a consultant, they will write you an open referral letter which you'll need to send to vitalitygp@vitality.co.uk. Make sure the letter includes your full name and plan number. VitalityHealth will then call you with their decision.
If you have any further treatment without contacting us for authorisation first, they may not be able to provide cover.
You can find more information about this service and FAQs on the Vitality Member Zone.