Most people enjoy a little bit of sunshine - it's great for the body and mind alike. Something nobody likes, however, is sunburn! Sadly the two often come hand-in-hand, and can sometimes put a nasty downer on an otherwise fantastic day of sunshine.
Treating Sunburn
Even if you do everything possible to protect your skin (or if you forget and get carried away enjoying the sun) and you do get sunburned, then don't beat yourself up. Everyone makes mistakes, and we're here to give you some tips to sooth your angry red skin.
First things first, remove yourself from the rays and go indoors. We know the sun comes out rarely and we want to make the most of it when it's here but trust us… it's not worth being burnt. You can cool your skin by having a cold or tepid shower or bath, or sponging the skin with lukewarm water. Ensure that you also drink enough water, as the sunburn can result in dehydration. Drinking plenty of fluids will also cool you down.
For mild sunburn, apply a topical cream to the skin. A moisturising lotion (emollient) or after-sun cream will be available from your local pharmacy. Calamine lotion can relieve any itching due to the sunburn. These creams will soothe the skin, and relieve the feeling of tightness that can often happen. Putting after-sun in your fridge can make it extra soothing, just don't get it mixed up with your condiments.
Hydrocortisone cream (also available from your local pharmacy) can be applied to relieve itching, and reduce pain and inflammation, and if you have more severe pain due to your sunburn, you can even try painkillers in the form of tablets.
Anyone who has ever suffered a true sunburn knows how uncomfortable it can be as it heals. All of us make mistakes at some stage, but did you know that frequently exposing your skin to UV radiation for long periods of time can cause long term, irreversible damage, and leave you at risk for a number of unpleasant conditions?
Preventing Sunburn
The symptoms of sunburn can leave you feeling pretty uncomfortable, and could even ruin your enjoyment of the pleasant weather. In this case, prevention is definitely better than cure, and luckily there are lots of things you can do which allow you to enjoy the sun without suffering the consequences.
Top tips for preventing sunburn:
Avoid regular exposure to the sunlight, especially when it is at its strongest (usually between midday and 3pm)
Enjoy the shade if the sun is very strong
Cover up with a hat (especially important if you are bald), light and loose clothing that allows air to circulate and breathable shoes
Buy and regularly apply a good quality sunscreen with an SPF number recommended for your skin tone (the level of protection is shown as a star rating on the bottle)
Remember to re-apply your sunscreen every 2-3 hours, after coming out of water, and don't forget areas that can burn more easily, such as the nose, tips of the ears, or front of the feet
Buy and wear sunglasses that have a UV filer built in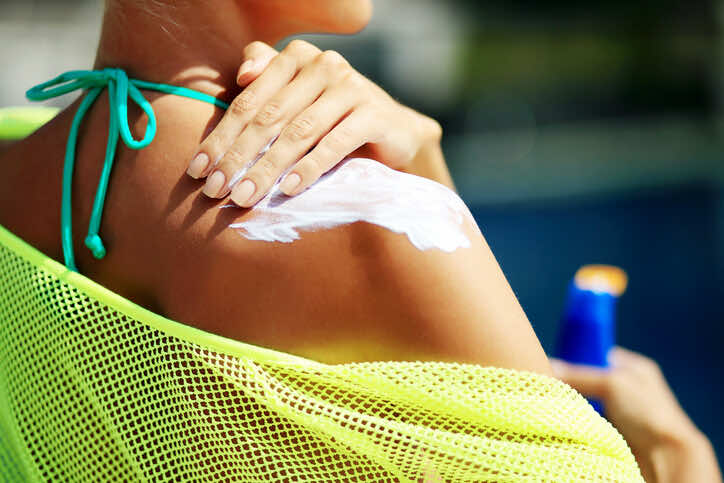 Remember to re-apply your sunscreen every 2-3 hours


Don't let sunburn ruin the summer for you, do everything you can to protect yourself and your skin will thank you in the future. Remember, even if the sun doesn't feel too hot you should still do your best to follow these tips. We can't always feel our skin burning if it's cloudy or windy but it happens.
If your sunburn is severe, you should take advice from a GP or private GP. You might even require burn dressings and special burn cream. In you feel very unwell and have the symptoms of heatstroke, book an appointment with a GP for advice. We have fully qualified private GPs available at all of our clinic locations, with short-notice and same-day doctor appointments available. If you've got any sun-related concerns, we're here for you!