We offer a wide range of laboratory services in London including urine test, stool test, swabs and private blood tests at all our clinics.
If you need a blood test without the long waiting time for results, then look no further – most of our private test results can be delivered within 4 hours by phone or email.
Routine blood tests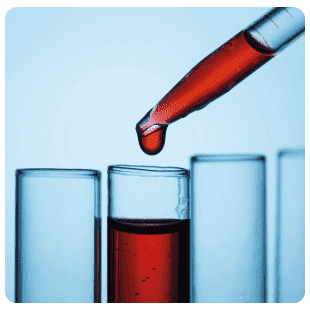 A common blood test that gives an overall account of your health. It measures the numbers of types of cells in your body, including red blood cells and white blood cells. FBC results are a good indicator of anaemia, infection and blood clotting.
We have a few blood sugar tests that can be done in clinic depending on your needs. Our blood glucose tests range from a simple finger prick test to our most thorough test, which also highlights any risk of diabetes. Most results can be shared on the same day as your test.
A simple test for checking your cholesterol levels to help flag cardiovascular diseases. Our blood cholesterol tests range from a simple test with basic measurements to more in-depth tests.
The liver function test measures a variety of enzymes and gives an overall view of liver health. The test also can help to identify some liver diseases.
A blood type test will offer an essential information about your blood type and the results can be delivered a couple of days.
If you're at risk of Prostate Cancer you can have the PSA test at any of our clinics. Results from the test can be given in just 4-6 hours.
Most STI and STD test don't require a blood test. However, to test for HIV and Syphilis a blood test is required. We have many sexual health screening options that can give same day results.
More common blood test profiles and screenings that we offer
We have hundreds of blood tests available as a part of our GP services. See the full list look at our a-z list of blood tests
How to book a private blood test
We can conduct blood tests in clinic without the need for a referral. The blood sample taken can be done in a 15-minute appointment and is included in the consultation fee.
The cost for the laboratory testing is additional to the consultation fee and completely depends on the testing needed – we do aim to keep all the laboratory testing as affordable as we possibly can.
Receiving your private blood test results
For many of our blood tests we can have the results back within 4 hours*. We can easily send your blood test results by phone or email.
*Please note if you have booked a blood test at our Orpington clinic, the delivery of your results will be longer than the standard 4-6 hours. 
Arrange your blood test via video appointment
You can also arrange your blood test via video appointment where you can visit one our partner labs and have the test done in lab or we can arrange for a phlebotomy nurse to visit you at home or office. To discuss the options, book an appointment and one of our GP's can go through the options with you.
Private blood test near me: Barbican, Blackfriars, Canary Wharf, Holborn, Kings Cross, Liverpool Street, London Bridge, Marylebone, Old Street, Orpington, Oxford Street, Paddington, Victoria, Wandsworth and Waterloo