Phone lines are very busy at the moment
BOOK VIDEO CONSULTATIONS WITH DOCTORS IN THE UK & SEE A GP TODAY
Book Video Consultations with Doctors in the UK & See a GP Today
Don't want to wait to see a doctor, or unable to get to a surgery? Why not book an online video consultation with a GP?
Increasing number of people are choosing to book video consultations with doctors in the UK. Thanks to many of us having fast internet connections, laptops, tablets, computer or smartphones in our homes, this is often the best choice for many people.
You may be busy, without transport, or you may be conscious of government advice to self-quarantine if you suspect you have symptoms of coronavirus Likewise, if you feel vulnerable or have underlying health conditions you may prefer not to go to a doctors' surgery in person.
Online video consultations with a doctor could offer you the reassurance and clarification you need. It's quick, easy and we fit around your day. At London Doctors Clinic we can offer:
Online video consultation with GP's between 8am and 8pm
Appointments with our GP's 7 days a week
We can organise tests remotely
Medication delivery
GP services worldwide except USA and Canada
Mental health support
Who can book an online video consultation?
Anyone is able to book an online video consultation with our professional GPs, as long as you have a smartphone, laptop or computer and an internet connection.
We recommend online consultations to anyone who:
Suspects that they may have symptoms of Covid-19, therefore, cannot make face to face appointment.
You are too busy or unable to take time off work to attend an appointment
You cannot arrange convenient transportation to and from the doctor's surgery
You feel unable to leave the house for reasons of mental or physical health
You feel that an online appointment would be the best solution for you
And more. But you don't need to give us a reason for booking an online appointment, anyone is welcome, for any reason.
If you are suffering severe symptoms or suspect you need urgent medical attention, call 999.
How do I book my video consultation?
Booking an appointment is simple and there is no need to switch from your NHS GP. There is no need to download an app, simply use your internet browser (Chrome, Edge, Firefox or Safari) to access the booking link. 
If you're planning to use an iPhone for your appointment, check that you're running on at least iOS 11.4. If you need to update your phone, you can follow the instructions here.
If you are unable to update your phone, you can take your appointment on a laptop, tablet or computer.
How do I book a video consultation with a doctor?
Booking a consultation couldn't be simpler. Just follow these steps:
Follow this link by
Choose a day and time that's convenient for you
Fill out a form answering some basic questions
Enter your card details and click "book an appointment"
Online video consultations cost just £45
What happens now?
You will receive a confirmation email that contains a video link.
At the time of your appointment (please be ready at least 5 minutes before), click the link to start the consultation.
Your GP will then begin your appointment at the booked time.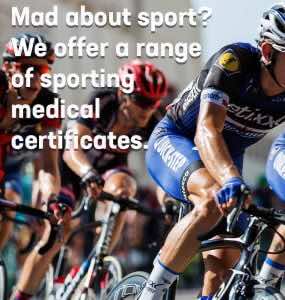 How should I prepare for my online video consultation?
To get the most out of your appointment, we suggest that you might find it helpful to follow these steps if possible.
Ensure you have a good internet connection in the place you intend to take your appointment.
Try to pick a place that's quiet and private with no distractions.
Have the link handy at least 5 minutes before your appointment to ensure you're on time.
Make a note of any symptoms, including when they began and how frequently they occur.
Note down a list of any medication you are currently taking.
Note down any current conditions you are diagnosed with.
Sit in good lighting so the doctor has a good visual
If you need any help booking your online doctors appointment, feel free to give us a call on 020 3993 0098.